Discover more from The Uplifters
Quick doses of inspiration, proven mindset-shifting techniques, research, and stories, for Uplifters.
Hi friends!
This beautiful, amazing Uplifter crew is growing and it feels like there's just too much to share in a single newsletter these days, so, for now anyway, I'm going to aim to send two newsletters each week.
Mid-week I'll send a note to highlight amazing women out in the world, the wisdom I'm discovering from the women I spend my days with, and probably some random musings on my latest food obsessions, in hopes that the people and things that are boosting me raise you up a bit too.
On Fridays, I'll send you notes on our latest podcast, to help you tune into some of the big insights I gleaned from our interviews.
---
Remember How Far You've Come
I asked Rachel Lipson, the guest on our next episode of The Uplifters Podcast (coming your way this Friday!), how she quiets the voice that says she's not good enough. Her answer was sheer brilliance, and is something every single one of us can do!
"I framed my press pieces, interviews, even a letter from somebody who wrote to me, who was a fan of my songwriting, and put them on my wall. Sometimes I'll be sitting there in my office and have those moments of doubt. And it's not like it's all about what other people think, because, what other people think of you is none of your business. But, it helps when you feel others' support, because everybody wants to feel community, and we all want to feel at home in the world. I look at that wall and it reminds me of how far I've come and how much I've done. And it's like, what am I gonna do? Stop now? Throw in the towel now?"
Rachel, I can't thank you enough for this! The Uplifters Podcast is just beginning, but every single one of you who has written a review has touched my little heart, so I've printed them out and hung them on my wall, so that, like Rachel, I can think of you when I get in a rush and worry that things aren't happening quickly enough.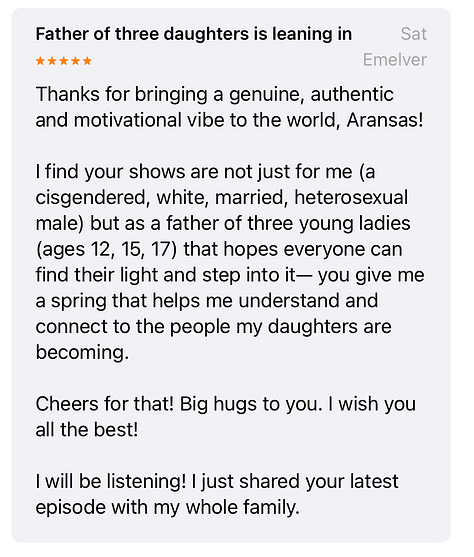 ---
More Quick Boosts
If you're hungry for stories of women who overcome incredible odds to accomplish mental and physical feats, subscribe to Fast Women. Alison Wade nerds out on the latest in women's distance running on her Instagram and newsletter each week, and while I am amazed by the accomplishments she shares, I'm really there for the stories of relentless overcomers, women who run crazy fast while pregnant, or while struggling with mental or physical hurdles, and somehow keep going. Her Boston Marathon coverage is packed with these stories!

This conversation on healing between Rosie Perez and Hoda Kotb melted my heart. It's so raw and honest, and an extraordinary example of what strength and resilience look like. Humans are astonishing.

This dress-up video from Carla Rockmore, shared with me by my wonderful friend Alyse, made me smile when I was feeling kinda gloomy about the news yesterday.
---
Sexy Breakfast Break
This may not look like most people's idea of breakfast, but this right here is a big, messy, sexy bowl of self-care! (I'm hoping you're not here for fancy food photography because you might be disappointed.)
I just returned from an epic 10-day road trip with my family. 10 days of gas stations, theme parks, southern restaurants, and fast food. We mostly don't eat meat, so several times, my only options were french fries or a burger with no patty (a.k.a. grilled cheese). Needless to say, I didn't feel my best after all of that, so a favorite meal this week: self-care salad.

It starts with a bunch of rough kale, which without some love and attention, would taste like punishment.

I pour olive oil and a little salt over it and then massage it to soften the rough leaves. This is better for eating, but also a great stress reliever (I work the heck outta that kale), and then when I'm done, I massage the oil into my hands. It all sounds a little ridiculous perhaps, but it really works! (One important thing to know about habits: the more value and pleasure they bring the more likely we are to want to continue them. Massaging kale hits on lots of value drivers, so it's a big win!)

I top it with my quick homemade hummus: a can of drained chickpeas, a little tahini and olive oil, some fresh garlic cloves, paprika and salt, and a little bit of orange juice (my secret ingredient for sweeter tartness which the Greeks may kick me out of the club over).

For texture and crispness, I throw in peppers, apples, and toasted walnuts.
What did you eat for breakfast this week?
See you on Friday! In the meantime, Listen to the latest episode of The Uplifters Podcast on Apple Podcasts, Spotify, and Substack, or watch us on YouTube. 
XO
Aransas
Thanks for reading Uplifters! Subscribe for free to receive new posts and support my work.