Discover more from The Uplifters
Quick doses of inspiration, proven mindset-shifting techniques, research, and stories, for Uplifters.
Rainbows and Puppies
A Pinterest High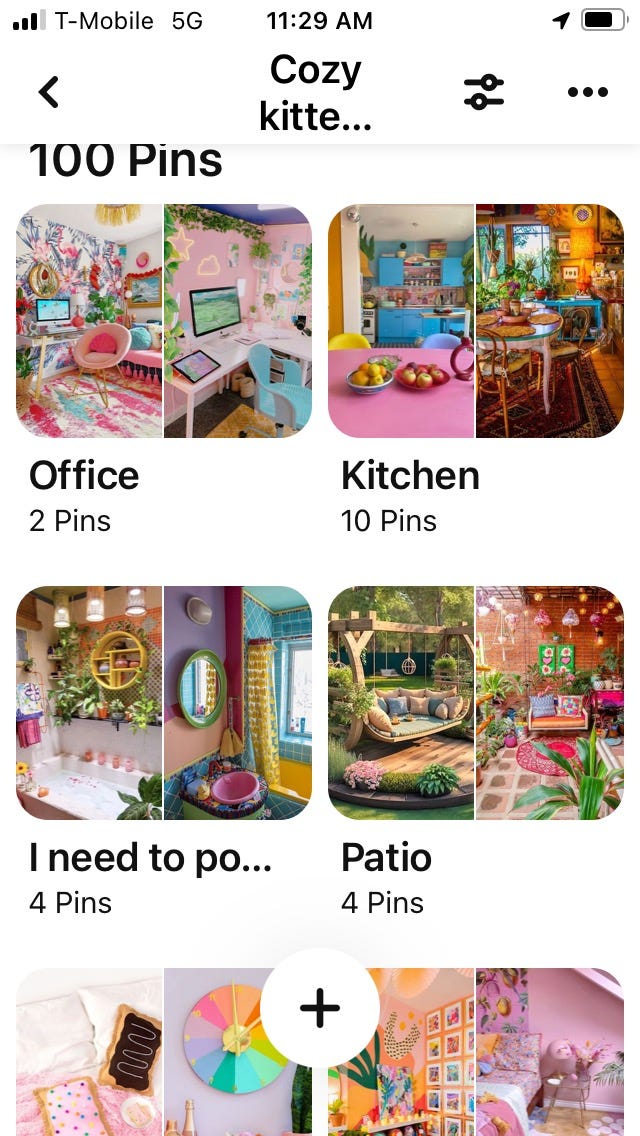 Happy Humpday!
Out of the blue the other day, my 14-year-old told me that she was working on her "serotonin boosters." I've seen the research, and generally speaking, the best ways to boost serotonin, one of our body's feel-good hormones, are eating well, getting out in the sun, taking vitamin D, exercising, and managing stress. But, she was talking about Pinterest. 🤷🏻‍♀️
Specifically, she was curating mood-boosting image boards of puppies and rainbows and neon-hued beach cottages.
As we've said so often here and on The Uplifters Podcast, our environments - the people, places, and things we surround ourselves with have a profound impact on our mindset and wellbeing.
It's been a week with some big worries and sadness around here, so I decided to try out my girlie's strategy and sat down with her to look at pretty pictures. Now maybe it was because she's a vibrant light, or maybe it was the puppies, but I definitely felt better.
So, today, if you're feeling a cloud hanging over you or life is nipping at your heels, maybe this can be your reminder to look for some rainbows and puppies. 🌈
---
This week on The Uplifters Podcast
This Friday, you'll meet Pastor Beth, nominated by Lisa Crozier from Episode 13. Talking to Beth really lifted my spirits and I can't wait to share her big heart, her big mouth, and BIG ideas with all of you!
---
See you on Friday!
In the meantime, Listen to the latest episode of The Uplifters Podcast on Apple Podcasts, Spotify, Substack, or YouTube. 
If you haven't done so already, click below to upgrade your subscription and unlock monthly Uplifter Workshops with our guests, weekly Uplifters Unfiltered videos, and more! And because we all rise higher together, consider gifting a subscription to someone in your life who could use a boost.
Let's keep rising higher, together, 💓
Aransas
Thanks for reading The Uplifters! Subscribe for free to receive new posts and support my work.