Discover more from The Uplifters
Quick doses of inspiration, proven mindset-shifting techniques, research, and stories, for Uplifters.
My New Favorite Question ⁉️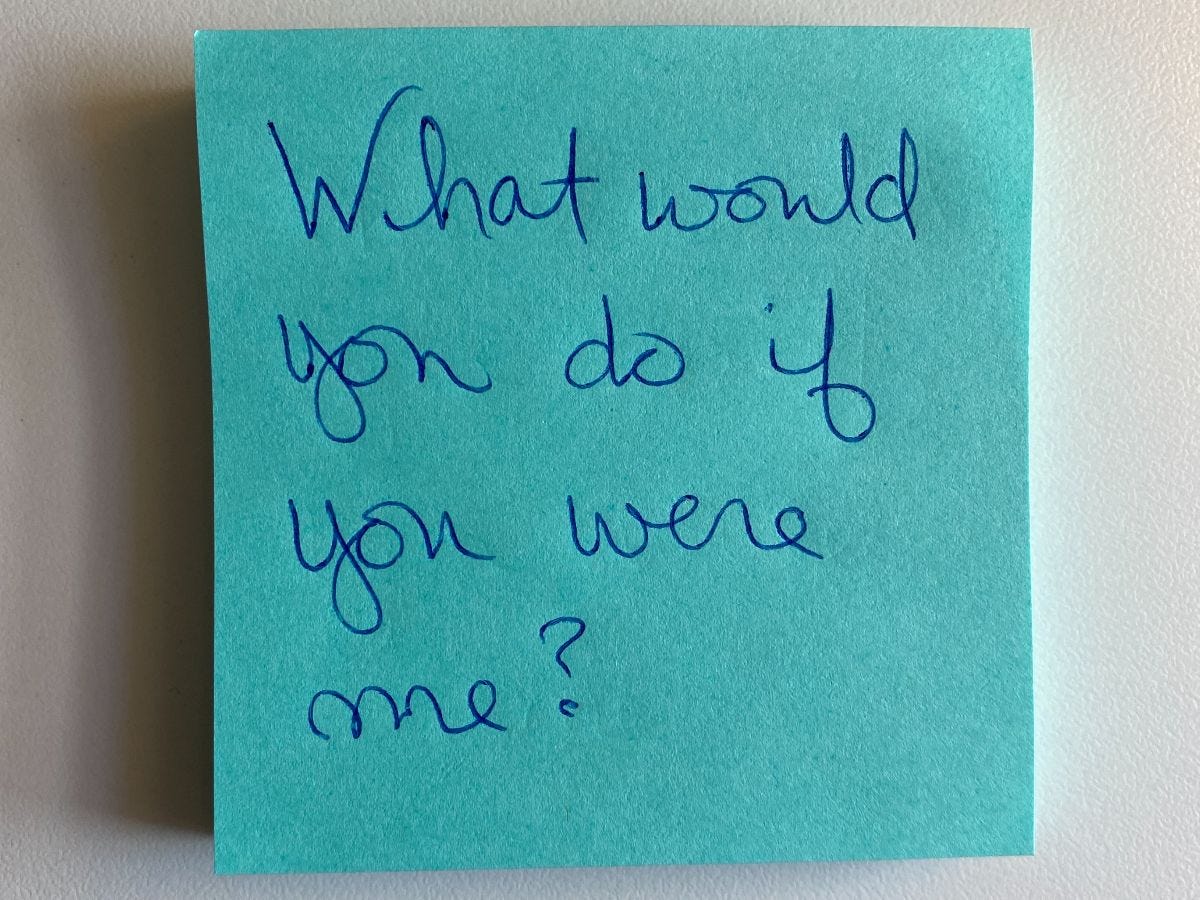 Happy Fearless Friday, Friends!
Humans don't tend to like advice. Most of the time it feels nudgy, misplaced, and unsuited for our individual needs and circumstances. Lately, I've been asking for lots of it though and reaping the rewards of learning from people who have been where I am, or who have expertise from helping others who have.

It turns out asking for advice on our terms is a heck of a lot different than having it thrust on us. My new favorite question in life is (drumroll please)…

⚡️What would you do if you were me?⚡️

This can go south fast (I mean, they aren't me after all), so I prime the advice pump by sharing my situation, fears, and needs honestly.  Doing so creates empathy and understanding and a sense of human connection. 

And then I ask: What would you do if you were me?

I asked the ticket agent at the airline when I needed to cancel a flight. I asked the desk clerk when I needed to get more information on how to use the gym equipment. I asked my mom when I needed to work through a childcare gap. I asked my kids when I wanted to set up an allowance strategy. 

In every instance, the question invited a sense of partnership and support where I am might otherwise anticipate resistance. We became a team, working together to address a challenge that we both understood. 

I've heard from lots of you this past week that you are in a time of transition, from spring to summer, job to job, relationship to relationship, place to place, and that you're with us in the awkwardness, so what if this week we play with asking for the help we want in the way we want it to make the journey a little smoother?
Here's to fearlessly asking for what we want and need,
Aransas
---

If you have kids in your life that would benefit from some calming mindfulness techniques (and couldn't we all) please check out my podcasts and e-books for kids ages 3 to 8 on the Encantos App. Thanks to a generous donor, the entire app is free!
---

If you enjoy these Fearless Friday updates, please share them with your people. They can sign up here. Want to find or share past Fearless Fridays? Check out my blog. Want to learn more about LiveUp and what our community is doing? Click here, or just respond to this message.