Discover more from The Uplifters
Quick doses of inspiration, proven mindset-shifting techniques, research, and stories, for Uplifters.
Bee kind 🐝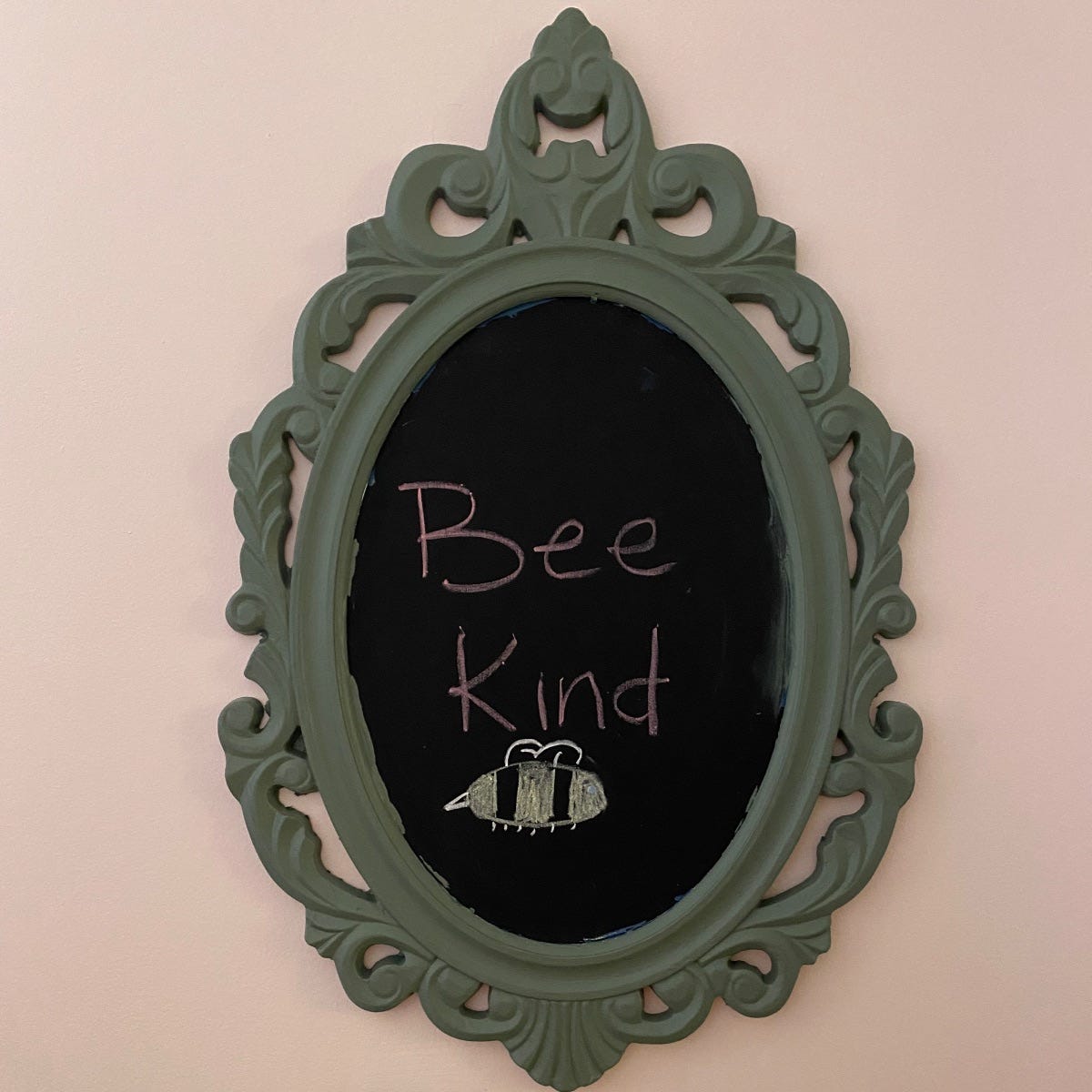 Happy Fearless Friday, Friends!

Years ago, a friend told me that the most important lesson she wanted to impart on her daughter was how to take good care of her body. It's a pretty radical concept since the message most of our history has given is that our bodies are meant to be treated as competitive events: skinnier, stronger, faster, prettier, and that the goal is to go harder, shrink them, and punish them unendingly. 

I've made lots of unkind choices for my body in this life, but every day when I am greeted by this little message in my girls' room I am reminded that I will teach kindness through practicing it. 

For me, kindness is…
🐝Taking my vitamins
🐝Relying on different parts of my mind and body day to day, so that all of me gets in on the action sometimes and all of me gets to rest sometimes
🐝Eating food that makes my body feel good most of the time and sometimes also eating food that makes my tastebuds sing. Sometimes those are the same things, and sometimes they aren't. 
🐝Being devoted to my bedtime and morning rituals
🐝Slowing down when I feel overwhelmed 
🐝Stopping when it hurts 
🐝Saying nice things to and about my body and it's extraordinary abilities
🐝Honoring the commitments I make to myself… at least when they're kind. 

The kind choice isn't always easy, but I always know it's right.

What does kindness look in your life? What would shift if you filtered every behavior and decision for yourself through the lens of kindness?
Here's to more kindness all around,
Aransas
---

If you have kids in your life that would benefit from some calming mindfulness techniques (and couldn't we all) please check out my podcasts and e-books for kids ages 3 to 8 on the Encantos App. Thanks to a generous donor, the entire app is free!
---

If you enjoy these Fearless Friday updates, please share them with your people. They can sign up here. Want to learn more about LiveUp and what our community is doing? Click here, or just respond to this message.