Discover more from The Uplifters
Quick doses of inspiration, proven mindset-shifting techniques, research, and stories, for Uplifters.
Put the ladder down! 🪜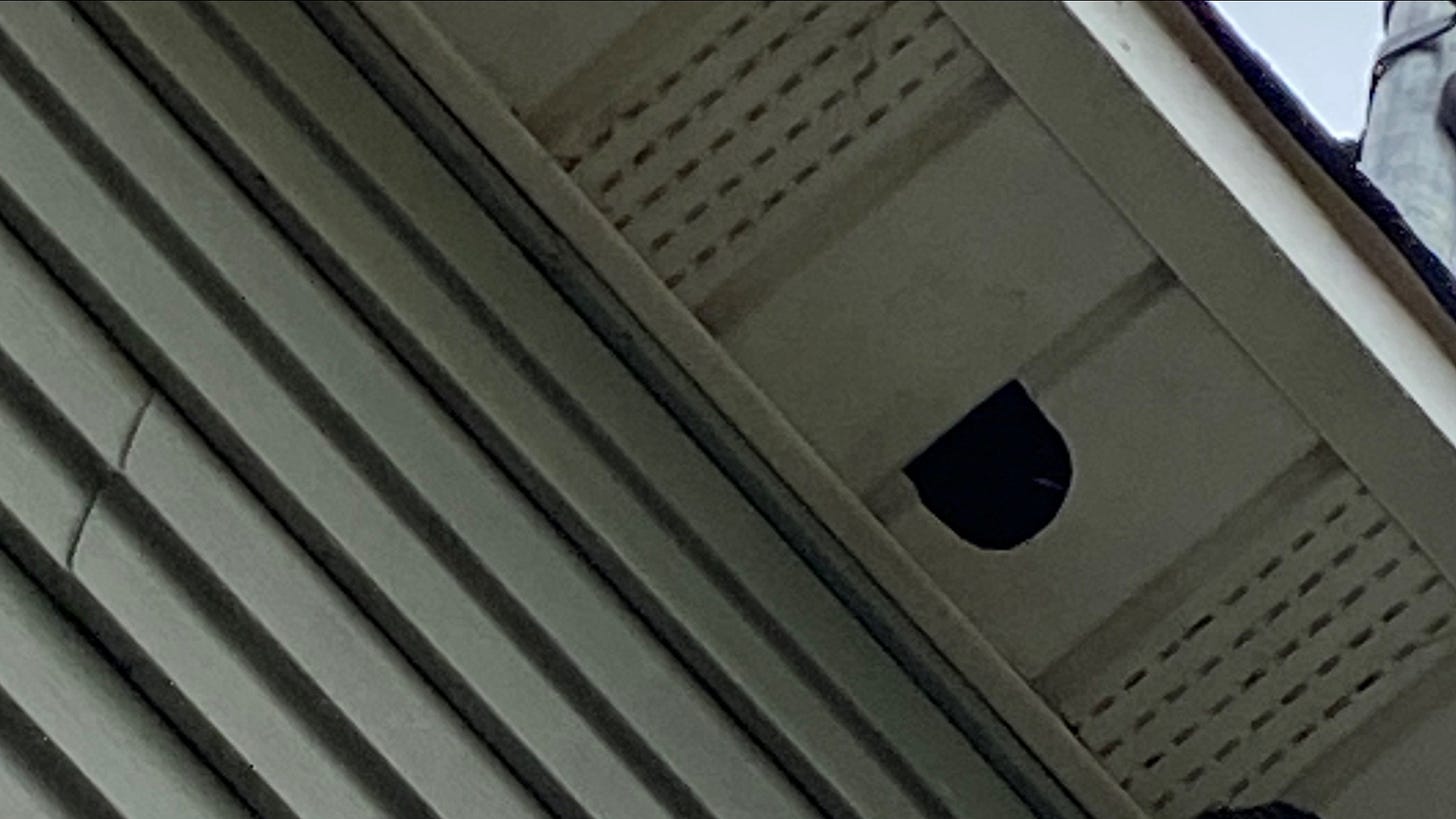 Happy Fearless Friday, Friends!
This little hole in our roof line is primo real estate for our enthusiastic avian neighbors. (I suspect they call it the Love Shack amongst themselves.) Having them as upstairs, non-paying roommates long-term is likely to cause some issues, though. So, we got our acts together last weekend to patch the hole. We went to the hardware store for advice, a generous neighbor loaned us a great big ladder, we assembled a strong trio to carry the ladder home and trudged through the mud to collect it. (Thanks, Mom and Andy!)

We had plans! We were ready to go and feeling unstoppable. It all seemed so simple:
✅ Lean ladder against house
✅ Apply patch
✅ Look up with smug satisfaction at having accomplished our goal! 
It turns out that 25' ladders are a heck of a lot heavier than we expected. We experimented with different angles, we watched a YouTube video on how to raise a ladder, we tried out different ways of holding it. But, we just couldn't maneuver it against the house safely. Not doing it safely could mean our tiny roof problem became a big broken window problem. And so we agreed as a team to do something that can be hard to do: we quit. We eased the ladder down, trudged back through the mud, and returned it to its rightful home.
I'm all about persistence and I've been described as tenacious once or twice, but here's what I've finally learned: It's ok to change course and it's ok to push pause on our efforts. So, if you feel like you're pushing your goals uphill these days and your energy is zapped from all the effort, maybe this is the moment to let things rest for a bit and and then return to them with better tools, more support, or simply better conditions.
Maybe doing so will open up some unexpected gifts. I'm actually pretty excited to watch our tenants grow their family and I guess their rent will be paid in the lessons we learn watching them build nests undeterred. What's so wrong with living in a bird sanctuary, anyway?
Here's to resting and returning when the time is right.
Aransas

PS If you have kids in your life that would benefit from some calming mindfulness techniques (and couldn't we all) please check out my podcasts and e-books for kids ages 3 to 8 on the Encantos App. Thanks to a generous donor, the entire app is free!

PPS If you enjoy these Fearless Friday updates, please share them with your people. They can sign up here. Want to learn more about LiveUp and what our community is doing? Click here, or just respond to this message.