Discover more from The Uplifters
Quick doses of inspiration, proven mindset-shifting techniques, research, and stories, for Uplifters.
I come from brave women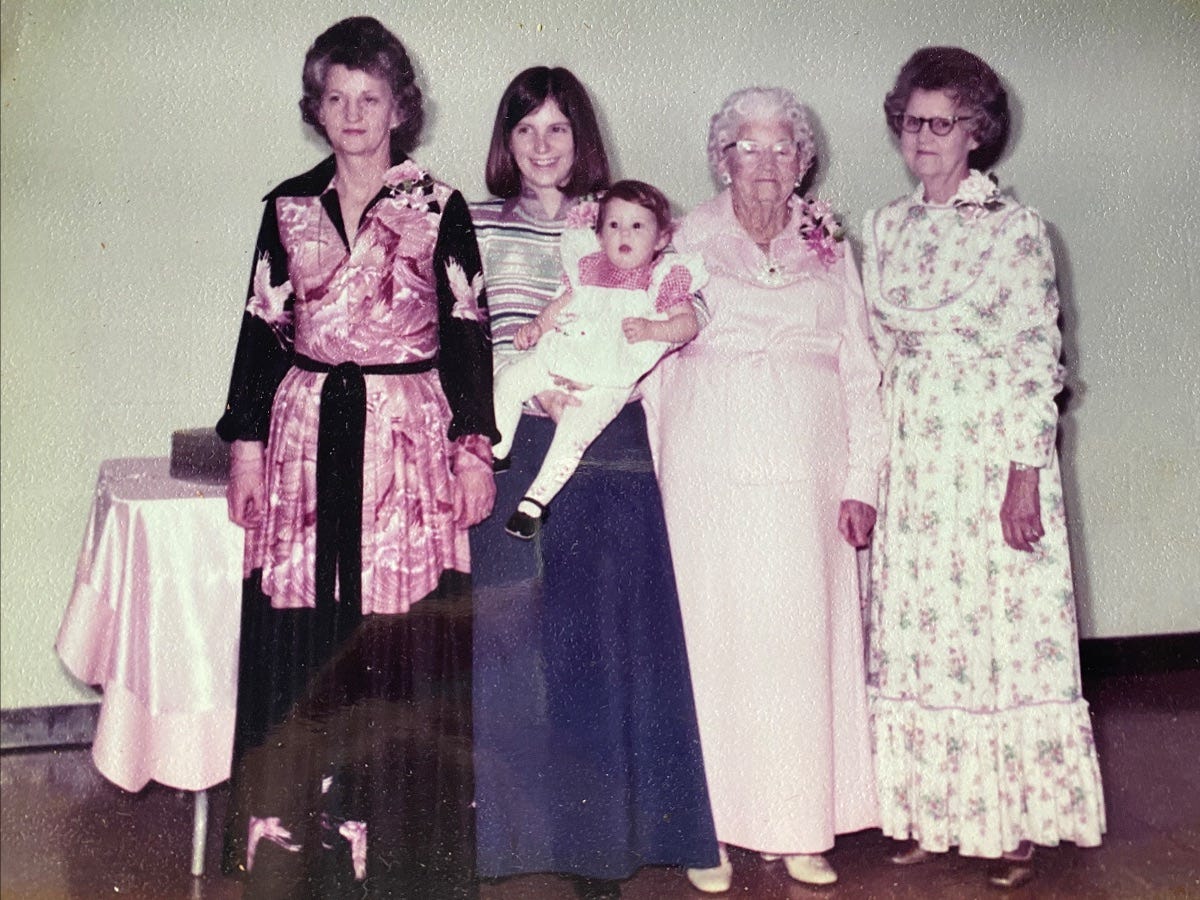 Happy Fearless Friday, Friends!
As we celebrate Women's History Month, I've been thinking a lot about what I have learned from the gritty women who came before me. I hope you'll bear with me, because this is a long one. 
This photo is of 5 generations of first-born children, who each made her own way in the world. My great great grandmother, Fanny Williamson, is the one in the pink dress. This photo was taken on her 80th birthday. To her right is my Great-grandmother, Malva Morris, who eloped when she was 19 years old. Throughout the Dust Bowl she and her husband moved seasonally to chase the crops as migrant farm workers. No matter how hard they worked, they couldn't escape extreme poverty until she made the bold choice to stop farming. Noticing the rising popularity of the Barbie Doll she had a hunch that there was a market for doll clothes. One tiny, frilly frock at a time, she pulled her family into a comfortable middle class life with the business she ran into her 90s. To the far left is my grandma, Rosemary Baker. She was born in 1929 and thrust into the Great Depression. Because her parents were migrant farm workers she had to transfer schools 9 times in a single school year. All the moving around was difficult for her, but it taught her how to make any space, no matter how meager or temporary, into a home. When she married her high school sweetheart and focused her attention on raising children she became a 1950's version of a house flipper- transforming neglected properties. She went on to architect or renovate close to 30 homes, despite the fact that she's never taken a class in architecture or design. Next to her is my own precious momma, Cathey. She's had a life of great adventures, with some pretty treacherous twists and turns, but she has come through great difficulties with a deep well of wisdom and a hunger to advocate for, and give to, others. The baby is me. I am now the mother of two girls. Here are a few things I want them to learn from their grandmothers, our family's women's history. 
✨Have hope. You have the ability to change your life and make your dreams come true.
✨It's what you do daily that matters most. Sure, people remember the big moments most, but it's easy to forget that they are simply the result of what we do daily.

✨Keep growing. We are never too old to do or be or learn something new. My great grandmother changed careers in her 40s, my grandmother started running in her 50s, my mother took up ukulele in her 60s, and I decided to start Italian lessons this week.
✨"Ready" is overrated. You don't have to know all the answers or earn all the certifications or stamps of approval to get started. If you wait for those, you might not ever get to the doing, learning and growing part. 
✨The surest way to find purpose and joy in life is to give to others, but don't forget that it's essential to take care of your mind and body to power your purpose.
Here's to the women who inspire us.
Aransas

PS If you have kids in your life that would benefit from some calming mindset techniques (and couldn't we all) please check out my audio series and e-books for kids ages 3 to 8 on the Encantos App. Thanks to a generous donor, the entire app is free!

PPS If you enjoy these Fearless Friday updates, please share them with your people. They can sign up here. Want to learn more about LiveUp and what our community is doing? Click here, or just respond to this message.