Discover more from The Uplifters
Quick doses of inspiration, proven mindset-shifting techniques, research, and stories, for Uplifters.
Sometimes we won't see what's right in front of us 🤷🏻‍♀️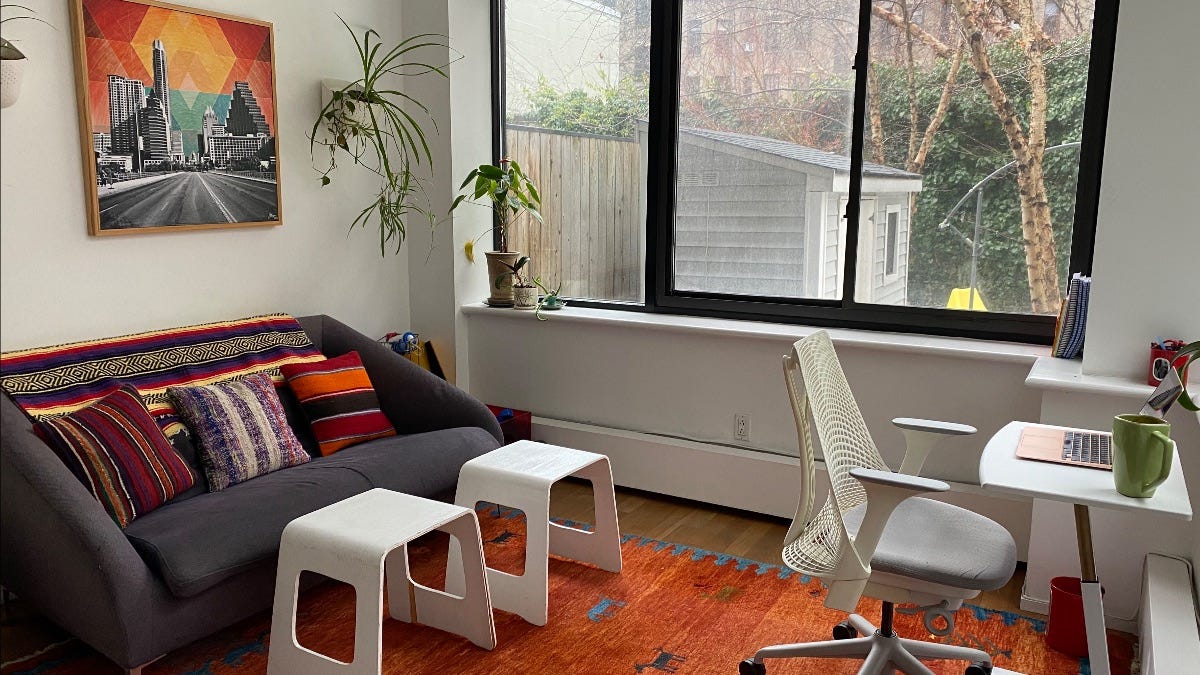 Happy Fearless Friday, Friends!
I have spent the better part of the last two years working in a 2' x 2' space sandwiched between the foot of our bed and our radiator. It was fine. It was enough. I was pretty sure I could be OK with it for the next 10 or 15 years of working from home. Sure, there were other places in the house where I could work. There was even a proper desk. But, the tiny spot by the window allowed me to see what was happening in the outside world and to feel the seasons and the light as I worked indoors. Light was the real priority - the nonnegotiable, and if I wanted light, then this seemed to be my only option. 

As I squeezed into my "office" and rolled out my mat each morning in a space that didn't have room for the mat, much less my outstretched limbs, and tried to write to you as the kids asked me to order a refill of shampoo, I knew deep down that I needed a quiet, Emily Dickinson space for myself. After holding this little whisper inside for months I finally voiced it out loud recently. My mom asked a very simple question, the kind I get to ask clients all the time, "Is there another option for how you arrange your room?" Oh dang! Of course! Move this to the left and this to the right, and there was a haven waiting just for me. 

I now have a place to grow and expand. It is an investment in my dreams and purpose and a signal to myself that they (and I) matter. It didn't cost a thing. (Though, a room divider and a rug are on their way.) It didn't take time - less than an hour with the help of my mother, husband and kids. (The dog wasn't much help.) What it really took was two years (and maybe a decade) to know what I needed. And to know that I was ready to invest in my dreams. 

I'll admit, there were a couple moments where I asked myself how the heck I couldn't see this simple solution right in front of me? But here's my big lesson in all of this: I needed those years to figure out what I needed, and what was really non-negotiable. Sometimes things take time. That's ok. 

If you're feeling like change isn't happening quickly enough, what would shift if you knew you were just preparing and getting ready for that next growth spurt?
Here's to taking our time. There's no rush. Really.
Aransas

PS If you have kids in your life that would benefit from some calming mindset techniques (and couldn't we all) please check out my audio series and e-books for kids ages 3 to 8 on the Encantos App. Thanks to a generous donor, the entire app is free!

PPS If you enjoy these Fearless Friday updates, please share them with your people. They can sign up here. Want to learn more about LiveUp and what our community is doing? Click here, or just respond to this message.