Discover more from The Uplifters
Quick doses of inspiration, proven mindset-shifting techniques, research, and stories, for Uplifters.
Make Mistakes. Live & Learn.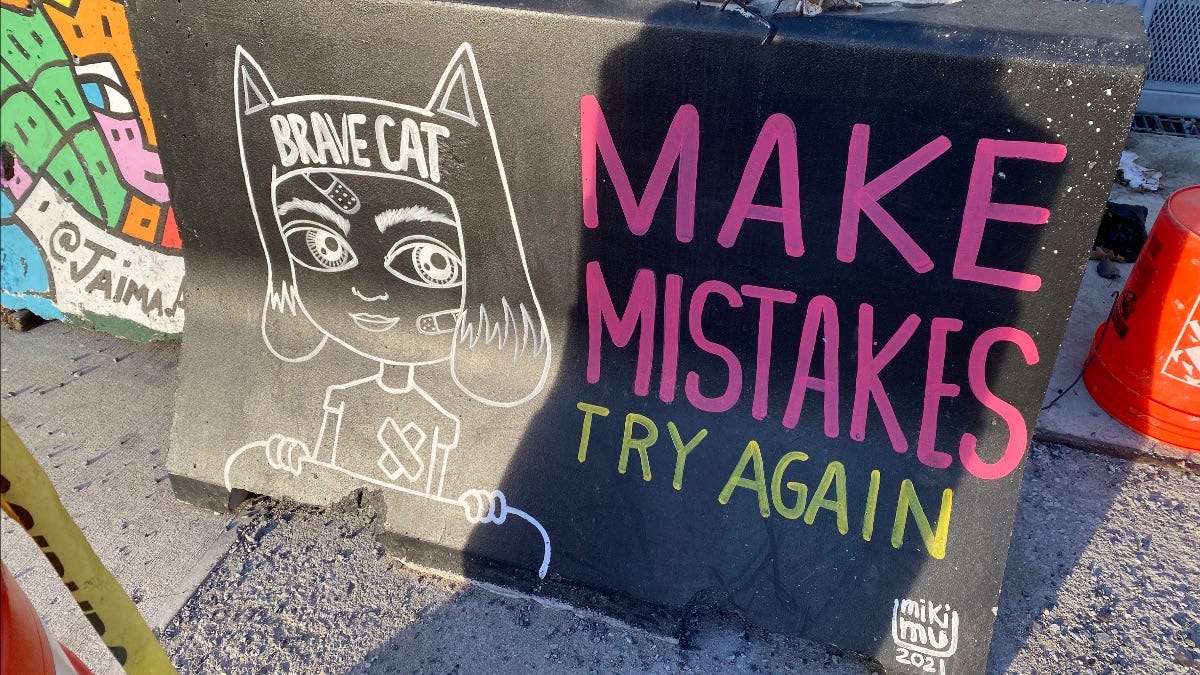 I'm glad I get to pass by this cement barricade reminder from mikiMU as I walk my girls to and from school every day. While I don't subscribe to the notion of mistakes, I am all about the power of continuous experimentation.

Real life example: Last week I noticed I was a little tense and on edge with my family. We all have our moments. 🤷‍♀️ In the past I've been known to interpret those moments as meaning something more than what they really are: opportunities to learn and grow. The truth is, if I'm not learning, I'm probably just not paying attention. So, I decided to pay attention. I got curious about the context of what was going on. I formed a theory. But I wasn't sure, so I ran an experiment to see what I could learn. I found out pretty quickly what was happening, made a tweak to my usual routine, and felt better. No big deal. Just living and learning. 
It's so easy to overthink, overtry, and overdo, but what if we softened our grips a little and just let ourselves play around and experiment?

If you like this idea and want to learn more, check out my Instagram Live series with Kara Cutruzulla. So far, we've looked at how to get started working toward goals, how to maintain momentum, and how to overcome setbacks. I've linked past videos above, but you can join us live on 1/27 at 6pm ET for our last conversation on ways to keep following through on our big dreams. (Spoiler alert: Experimenting will definitely be on tap.)
---
Speaking of experiments, I have learned a lot in the past 10 months since diving headfirst into new ways living and working. One realization I had recently is that I wasn't doing a very helpful job explaining what we do over at LiveUpDaily.com. So, I've been playing with the homepage. It's probably too many words. But, who cares, I'm learning. If you'd be so generous as to take a peek and give me your feedback on what you like, what confuses you, what makes you want to learn more, it would be so helpful to me. Feel free to just respond to this email with your thoughts, or if you prefer an anonymous way to share feedback just click here.
Here's to living and learning,
Aransas

PS If you have kids in your life that would benefit from some calming mindset techniques (and couldn't we all) please check out my audio series and e-books for kids ages 3 to 8 on the Encantos App. Thanks to a generous donor, the entire app is free!

PPS If you enjoy these Fearless Friday updates, please share them with your people. They can sign up here. Want to learn more about LiveUp and what our community is doing? Click here, or just respond to this message.