Discover more from The Uplifters
Quick doses of inspiration, proven mindset-shifting techniques, research, and stories, for Uplifters.
5 ways to avoid blowing up on Thanksgiving 🤯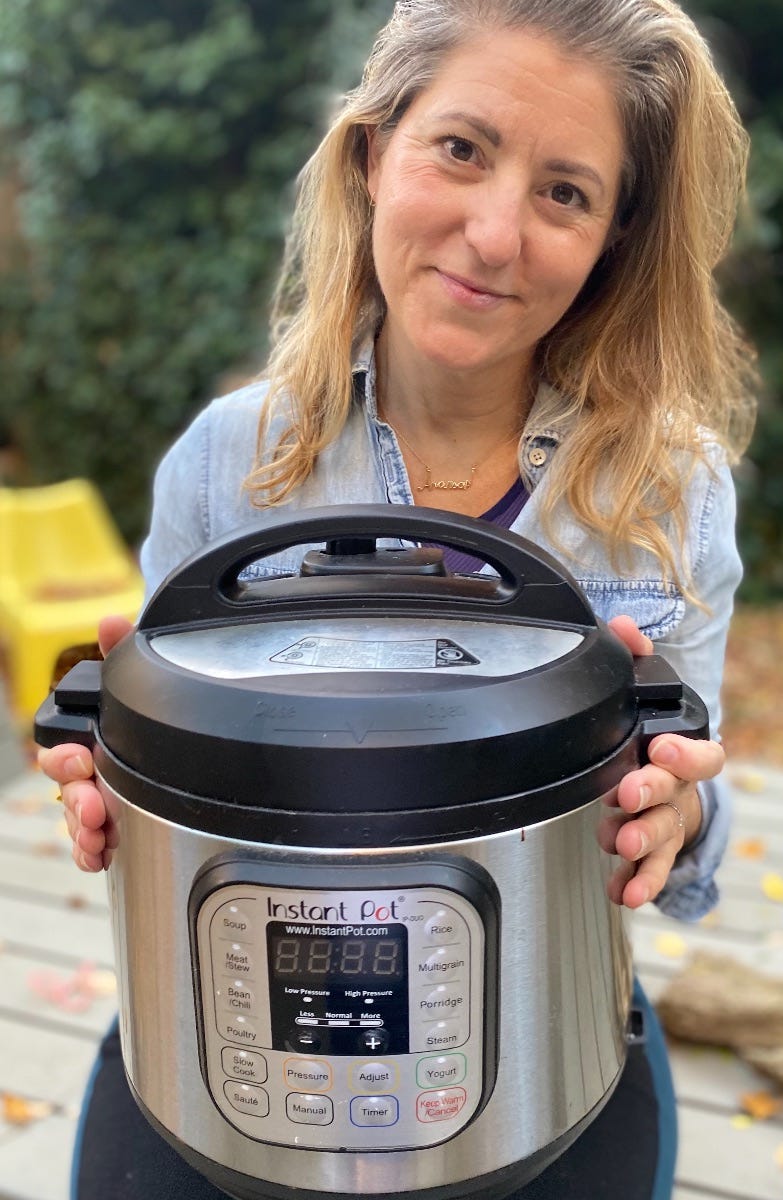 Happy Fearless Friday!
As we approach Thanksgiving I've been thinking about that Instant Pot in the back of my pantry. But, this isn't about recipes for quick dinners. This is about creating a personal recipe for experiences that leave you feeling connected and authentic. 
The time we spend with family often works like a pressure cooker. We walk into the experience with a steamy mix of fear and worry and stress (from planning, cooking, driving, work, kids, etc), then we toss it in the pot with our family's fears and worries and stress, and lo and behold the pressure starts to build until somebody blows their top (or at least says something they wish they hadn't).
In case you have some steamy social events coming up soon, I thought it might be helpful to slide in a few of the ways my clients and I manage these moments:
Practice Acceptance: Maybe you and your sister see everything differently. Maybe you wish she'd do everything differently. Accepting people does not mean agreeing with them or approving of them. It simply means accepting that they are who they are. 

Own your response: @annadecker recently reminded me that my response to a situation is much more about how I am than what the other person is saying or doing. Mind blown! Instead of blaming others, I try to ask myself how I am and what I might need in the moment.

Find gratitude: In moments of stress, simply retraining my focus on something I'm grateful for gives me a little pause and helps neutralize stressors.

Remember what matters most: Family time can be hard, but it can also create treasured memories. When stress or worry start to get in the way, I like to come back to my focus by simply asking myself what matters most. (It's usually not being right.)

Take a break: We all need a little pause sometimes. There is so much strength in giving ourselves breaks when we need them, whether it's a turn around a block, a cry in the car, or a long trip to the bathroom to take deep breaths. No apology or excuse needed. 
My recipe for a healthy, happy meal is a big dose of gratitude and intention, with acceptance, ownership and time alone stirred in. What's yours?
Here's to breathing our way forward, together.
Aransas

PS If you have kids in your life that would benefit from some calming mindset techniques (and couldn't we all) please check out my audio series and e-books for kids ages 3 to 8 on the Encantos App. It makes a great gift that you don't have to worry about shipping on time too. :) You can use code FAMILIA for three months free.

PPS If you enjoy these Fearless Friday updates, please share them with your people. They can sign up here. Want to learn more about LiveUp and what our community is doing? Click here, or just respond to this message.