Discover more from The Uplifters
Quick doses of inspiration, proven mindset-shifting techniques, research, and stories, for Uplifters.
What would you do if you knew you'd succeed?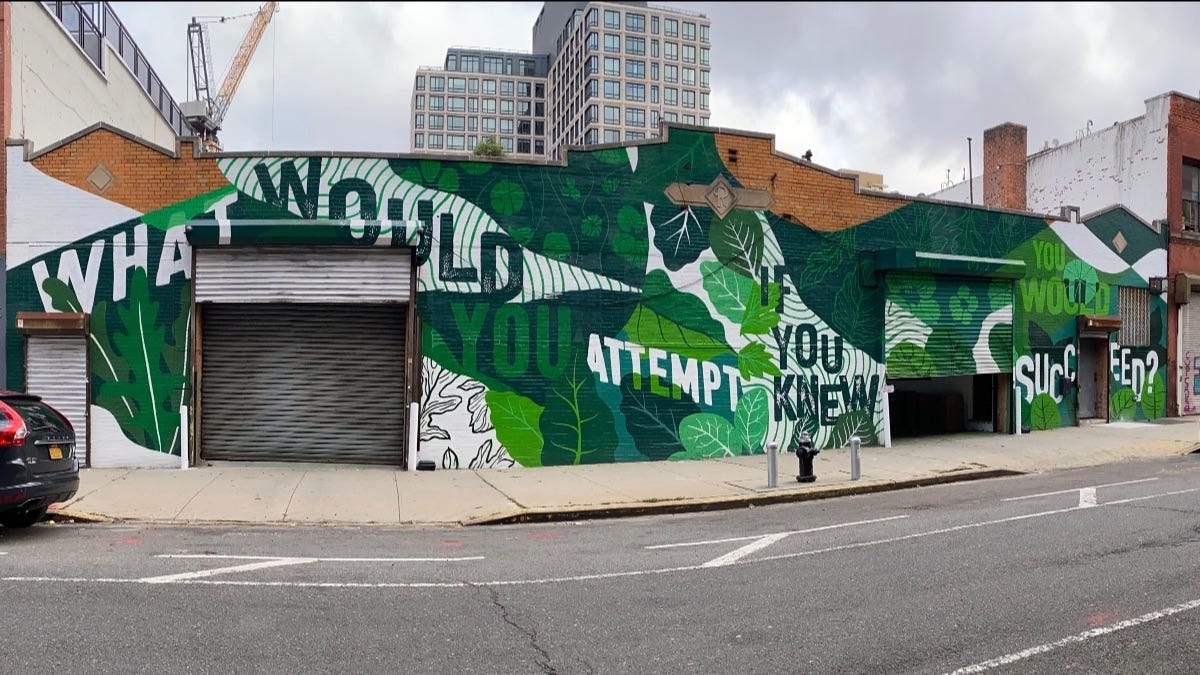 What would you attempt if you knew you would succeed?
When this mural went up around the corner I knew I needed to send a pic of it to you.
Happy Fearless Friday!
What if I fail? What if nobody likes it? What if the world (and particularly that person whose judgment I can always feel lurking around the corner) finds out I'm human?

What if all the people who've done the big, important things let these questions stop them?

What if instead of asking "What if it doesn't work out?," we asked, "What if it does?" 
What if we got clearer with ourselves about what we're really worried about by playing out the worst case scenario and asking, "What's the worst that could happen"? (Spoiler alert: It's usually something we can handle.)

What if we let ourselves dream a little and asked, "What's the best that could happen"? 
What if we let ourselves take chances and acknowledge that we don't actually know what will happen, and that maybe, just maybe, what will happen could be bigger and more interesting than our imagination? 
And what if we said to ourselves right now, "It's not too late to find out"? 
My friend Lina has been cultivating a growth mindset for years. It's led her to take some pretty courageous leaps into the unknown. I recorded this conversation with her, so that we can all listen in on how she talks to herself, and how she consciously steps into her fears. Next time you notice that fear is in the driver's seat, perhaps you'll hear Lina in the back of your mind, like I do, cheering you on, and reminding you to bet on your dreams and expand your exploration in small ways as a practice for those big ways.
Watch this video to learn about the mindset Lina uses to keep taking bold leaps
If you enjoy these Fearless Friday updates, please share them with your people. They can sign up here. Want to learn more about LiveUp and what we're doing? Click here, or just respond to this message.
Here's to choosing our way forward, together.
Aransas