Discover more from The Uplifters
Quick doses of inspiration, proven mindset-shifting techniques, research, and stories, for Uplifters.
Claiming Our Incompetence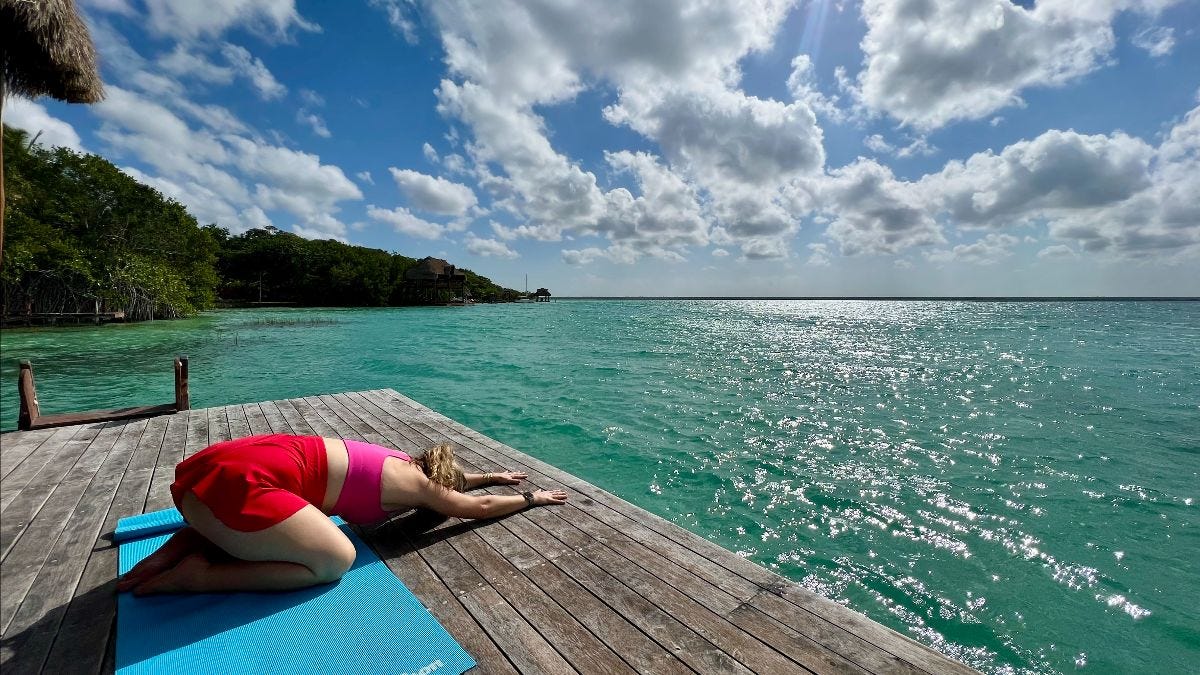 Happy Fearless Friday, Friends!
Some of the most beautiful moments on my recent trip to Mexico were those spent practicing yoga on a dock near the beautiful lagoon. I found an audio-guided practice on Spotify (highly recommend).  I moved and stretched, and sank into the sound of the teacher's voice and the lapping waves. Other than the occasional kayaker passing by, I was completely alone in paradise.

Except…

The tranquil setting and crystal blue waters couldn't quiet the whispering voice that cares what other people think. My creative brain imagined a scenario about a random woman on a kayak. It sounded something like, "What if that woman is a yoga teacher? What if she is looking at me and thinking, 'Eek, she's doing that all wrong!'". Let me be clear: I do not know anything about that woman. She was so far away, I'm not even sure if she was a woman. She may never have practiced yoga in her entire life. And it is extremely unlikely that she noticed me. Asking myself these questions about her only pulled me away from my practice. 

And then it hit me, what if I let the distracting thoughts about others' opinions be an anchor for myself, a reminder that the opinion I care about is my own? What if my questions actually are, "What do I think of my practice right now? How do I feel in my body?" The truth: I think I'm doing great! I'm exploring! I'm doing yoga! On vacation! In one of the most beautiful places on earth! 

What would shift if every time we concerned ourselves with other people's opinions of us, we let that thought be a trigger to check in on our opinion of ourselves and a reminder to explore what's actually happening in the moment?

The old adage is true: other people's opinions of you are none of your business. What is your business? Your opinion of yourself. 
Aransas
If you enjoy these Fearless Friday updates, please share them with your people. They can sign up here. To learn more about LiveUp and what our community is doing click here, or just respond to this message.