Discover more from The Uplifters
Quick doses of inspiration, proven mindset-shifting techniques, research, and stories, for Uplifters.
Clearing The Shelves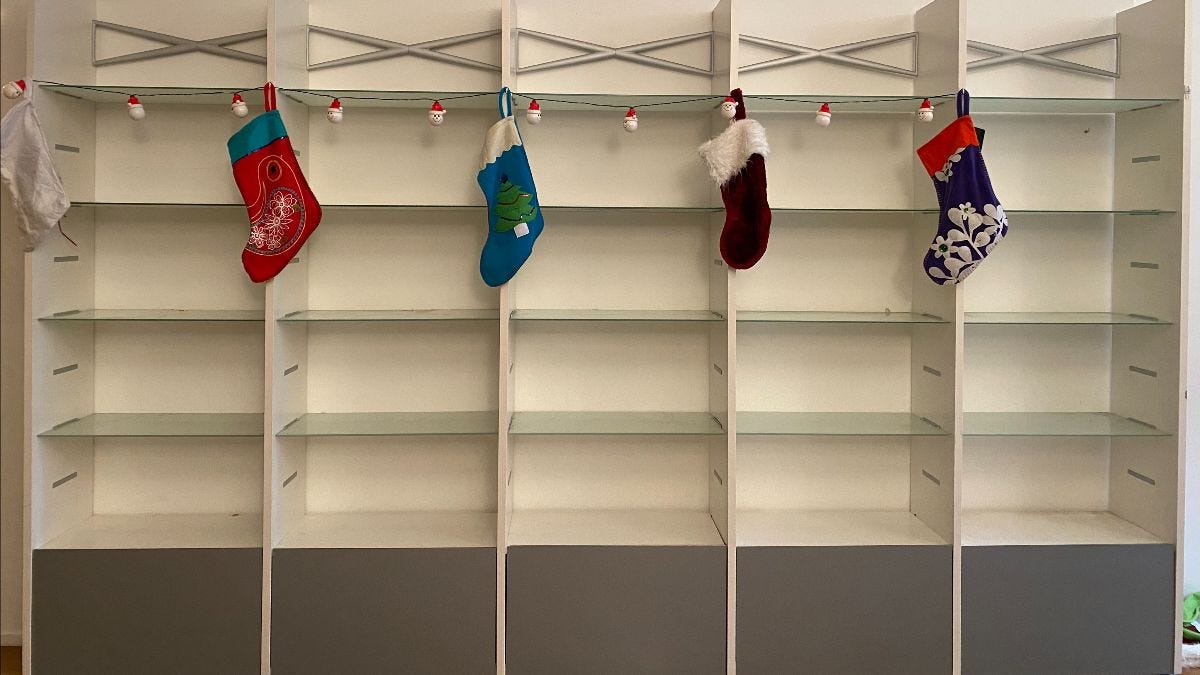 Happy Fearless Friday, Friends!
When I moved to NYC 21 years ago, I shared an apartment on the Upper West Side with two roommates. As a unit, we had one extraordinary gift: the power to make things magically disappear. For example, a takeout menu slid under the door could linger on our floor for months without any of us picking it up, even though we had to step over it every day. It was as though it didn't even exist. Magic! 🪄
Over the years, I've noticed many examples of "takeout menu syndrome." It blinds us from seeing what's right in front of us. Because the clutter isn't causing acute pain, we look past it. Until we see it. And then we can't unsee it. 
My bookshelf recently revealed its true self. 
I'd always seen it as a convenience- a handy place to stash things that needed a home or to display treasures that we prized: my running medals, Andy's trophies, our books, and family photos. And the drawers were a perfect place to hide away things that we simply didn't have the courage to part with because we just knew we would need them…someday. 
But I rarely touch any of these things because they are no longer relevant. They serve old needs. I was holding onto them because I just wasn't sure I was done with what was, and maybe I wasn't quite ready to make space for what could be. 
And so I decided the shelves had to go. With each layer of stuff we removed, we found more stuff. We passed along, donated, trashed, or recycled most of it. We moved a few things that we still need into new homes. Soon, the shelves themselves will move on to collect a neighbor's clutter (errr… I mean, treasures).
And we will have space. For what? I'm not sure. There are endless possibilities, but I can't see them while the shelves obscure my view. 
I've been talking to friends about this and it seems we all have accumulations of tolerable blocks that obscure our views and clutter our paths. For one friend it's a matter of fully disentangling from a marriage she ended years ago, for another it's reclaiming her home now that her kids have moved away, and for a third it's the process of re-working her life and schedule as she shifts to a 4-day workweek. 
2022 is almost behind us. It's changed us. We will want to hold onto some of those souvenirs, and others, we will want to burn in a big bonfire.  We only have space for so much. If we are going to do and be different next year, we are gonna need to clear up some space and make room for what's coming.

What are you ready to let go of?

I can't wait to hear what you find when you create some space to expand!
Aransas